Nina Simone - Live 1961/1962
Nina Simone sings and plays piano in this 1961 & 1962 live performance.
30 minutes
Selections: Sunday in Savannah, I'll Look Around, When I Was in My Prime, Zungo, For All We Know, Strawberry Woman, Crab Man, I Loves You, Porgy

Nina Simone - Live at the Montreux
This DVD includes Nina Simone's entire performance from 1976 as the main feature and is supplemented by bonus features including 2 tracks from her concert in 1987 and 4 from her final show in 1990.
111min
Selections: Little Girl Blue, Backlash Blues, Be My Husband, I Wish I Knew, Stars/Feelings, Someone To Watch Over Me , My Baby Just Cares For Me, I Loves You Porgy, Liberian Calypso, Four Womeon/Mississippi Goddam, Ne Me Quiite Pas (Don't Leave Me)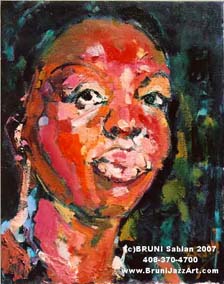 Nina Simone - Live at Ronnie Scott's
This DVD features Nina Simone (vocals, piano) delivering an intense emotional performance at the legendary Ronnie Scott's in Soho, London on November 17, 1985. Simone is considered to be one of the most diverse singers of the 20th century, recording material in multiple genres including soul, jazz, pop, blues, gospel, and Broadway. Most often labeled a "soul" singer due to her emotional performing tendencies, Simone is an eclectic musician, who adds a soulful mystique to whatever material she interprets.
Nina Simone - Piano, Vocals - Paul Robinson - Drums
The Soul Of Nina Simone
This essential set is drawn mostly from the 60s with many of her tradmark songs as well as several rare and previously unissued tracks. The DVD features the first-time release of 3 unforgettable performances one from the Harlem Festival in 1969. Also included on the DVD are her 1960 Ed Sullivan performance and an intimate 1968 Bitter End Greenwich Village club performance. The CD includes 15 classic plus 2 previusly unreleased signature songs from the RCA archive recorded in Newport 1963 and at the Westbury Music Fair. Included are liner notes by Jim Gavin.
Item# FA35
DVD & CD $23.95
Nina Simone - Jazz Icon - Live in Holland & England 1965/1968
Holland 1965
Nina Simone - Piano, Vocal; Rudy Stevenson - Guitar; Lisle Atkinson - bass; Bobby Hamilton - Drums

Selections: Brown Baby, Four Women, The Ballad Of Hollis Brown, Tomorrow, Is My Turn, Images, Go Limp, Mississippi Goddam
England 1968

Nina Simone - Piano, Vocal; Sam Waymon -Organ, Vocal, Percussion; Henry Young - Guitar; Gene Taylor -Bass; Buck Clark - Drums
Selections: Go To Hell, Ain't Got No/I Got Life, Backlash Blues, I Put A Spell On You, Don't Let Me Be Misunderstood, Why? (The King Of Love Is Dead)
Features: 24-page booklet including:
Liner Notes by Rob Bowman
Foreword by Lisa "Simone" Kelly
Cover photo by David Redfern
Booklet photos by Lee Tanner, Giles Petard, Susanne Schapowalow, Val Wilmer Memorabilia collage