Selections: Just By Myself, Moanin', I Remember Clifford, It's You or No One, Whisper Not, A Night in Tunisia, NY Theme
Included is rare footage of Blakey and the Jazz Messengers with Lee Morgan - trumpet, Wayne Shorter - tenor sax, Walter Davis Jr. - piano, and Jymie Merrit - bass, filmed live in Paris in 1959. Along with 5 video clips are 2 audio tracks from the concert that were not filmed.
Selections: Blue March, Are You Real, Night in Tunisia, Close Your Eyes, Goldie
Art Blakey & The Jazz Messengers were the quintessential "hard bop" ensemble, rooted in the core elements of Swing and Blues. As Jazz became more prevalent and expansive, the characteristic "hard bop" of the Messengers became accepted as the global definition for Jazz music. Art Blakey, it's eldest and most eloquent exponent was its master. This brilliant performance at Ronnie Scott's in London from February 21st 1985 is testament to this fact.

Art Blakey - Drums; Terence Blanchard - Trumpet; Donald Harrison - Alto Saxophone; Jean Toussaint - Tenor Saxophone; Mulgrew Miller - Piano; Lonnie Plaxico - Bass
Both of these concerts are issued here on DVD for the first time ever. The first one presents Art Blakey's Jazz Messengers filmed at a studio in Tokyo, Japan, at the height of their fame. It offers one of the rare opportunities to see Lee Morgan on film (he was 23 at the time), as he was seldom captured by movie or TV cameras during his short life. He was regrettably killed in 1972, at the early age of 33.
It is also interesting to see a young Wayne Shorter in his pre-Miles stage and talented pianist Bobby Timmons, whose celebrated composition Moanin' is performed here by the group. A Japanese big band joins the group for the last two tunes.
Included is another complete rare appearance by the Jazz Messengers with Lee Morgan, this time in London four years later, featuring John Gilmore on tenor sax & John Hicks on piano.
In the case of Art Blakey, the name "jazz legend" is wholly appropriate. Born in 1919, Blakey served his musical apprenticeship in the bands of Billy Eckstine and Dizzy Gillespie where his reputation as a drummer grew. The Jazz Messengers were formed in 1955 and were pivotal, until Art's death in 1990, in nurturing the hard edged Be-bop sound and the jazz greats of the future including Lee Morgan, Benny Golsen, Kenny Dorham, Hank Mobley, Donald Byrd, Johnny Griffin, Wayne Shorter, Wynton Marsalis and Branford Marsalis, to name just a few.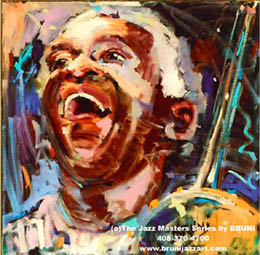 Art Blakey, drums; Wynton Marsalis, trumpet; Branford Marsalis, alto & baritone sax; Billy Pierce, tenor sax; Donald Brown, piano; Charles Fambrough, bass.
Tokyo 1961: Lee Morgan, Trumpet; Wayne Shorter, Tenor Saxophone; Bobby Timmons, Piano; Art Blakey, Drums; Nobuo Hara Sharps and Flats big band, added on Moanin' & Blues March.
London 1965: Lee Morgan, trumpet; John Gilmore, Tenor Saxophone; John Hicks, Piano; Victor Sproles, Bass; Art Blakey, drums.