Charles LLoyd Quartet with Michel Petrucciani
Featuring Charles LLoyd Quartet with Michel Petrucciani; also Freddie Hubbard, Art Blakey, Curtis Fuller, Cecil Taylor, Jackie McLean and Herbie Hancock.
A host of stars who took part in historic recordings of the 1950s and 1960s for Blue Note were featured in special concert at Town Hall in 1985 to relaunch the label, One Night With Blue Note: Kenny Burrell, Ron Carter, Walter Davis, Jr., Jack DeJohnette, Woody Shaw, Grady Tate, Stanley Turrentine, McCoy Tyner, Tony Williams, Reggie Workman, Joe Henderson, Bobby Hutcherson, Lou Donaldson, and Johnny Griffin.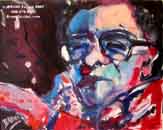 Michel Petrucciani - Power of Three
In 1986, Michel Petrucciani put his trio on hold and embarked on a duo tour with legendary guitarist Jim Hall. The tour started in Montreal where Petrucciani and Hall rehearsed with Wayne Shorter to prepare for a live recording to be done at the Montreux Jazz Festival, an event that comes with a fully-equipped recording studio and a full video crew. He and Hall perform four duets before Wayne joins them for the second half of the act.
Michel Petrucciani 2 FILMS: CONCERT SOLO & LETTRE A MICHEL PETRUCCIANI
CONCERT SOLO: Filmed in 1996 at the Marciac Jazz Festival in France, this performance brings the great romantic of jazz piano back to life with a stunning performance. Michel's symphonic approach to the instrument brings the listener on a virtual roller coaster ride through some of his favorite material. More...