Dizzy Gillespie - Jazz Icon
Dizzy Gillespie performs in Belgium with sidemen Sonny Stitt, Lou Levy, Ray Brown, and Gus Johnson, and in Denmark with Kenny Clarke-Francy Boland Big Band: Benny Bailey, Idrees, Sulieman, Art Farmer, Dusko Goykovich, Ake Persson, Nat Peck, Eric Van Lier, Derek Humble, Billy Mitchell, Tony Coe, Ronnie Scott, Sahib Shihab, Francy Boland, Jimmy Woode, Kenny Clarke, and Kenny Clare. Ira Gitler provides liner notes. Also included is an interview from Denmark.
Dizzy Gillespie - Jivin' In Be-Bop
Orchestra members include Gillespie, Dave Burns, Elmon Wright, Matthew McKay, John Lunch, Taswell Baird, Gordon Thomas, John Brown, Howard Johnson, James Moody, Joe Gayles, Bill Frazier, Milt Jackson, John Lewis, Ray Brown, Joe Harris, Helen Humes, Kenny "Pancho" Hagood, and Freddie Carter as Master of Ceremonies. Also featured is the Dan Burley - Johnny Taylor Duo.
1947 film - 60 minutes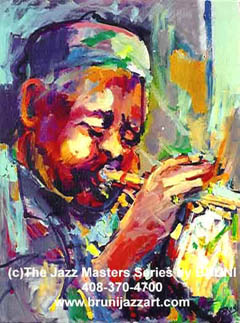 Dizzy Gillespie - Live in Montreal
One of the greatest jazz trumpeters of all time, Dizzy Gillespie dazzled the world with his talent as one of the pioneers of be-bop and Latin jazz, but with his puffed-out cheeks, bent trumpet and quick wit, he also was a great showman. Here he demonstrates his dazzling style as he bops, scats, croons and dances his way through a collection of his music, including "The Truth," "A Night in Tunisia" and "Dizzy's Blues." Dizzy Gillespie (Trumpet, Vocals), Ed Cherry (Guitar), Michael Howell (Bass), Thomas Campbell (Drums).
Dizzy Gillespie - Sextet '77
From the great Norman Granz 1977 Festival, this set features the Dizzy Gillespie Sextet with performers Benny Carter, Clark Terry, Roy Eldridge, Zoot Sims, Tommy Flanagan, Joe Pass, Keeter Betts and Bobby Durham.
Selections: Girl of My Dreams, Get Happy, Once in a While, But Beautiful, Here's That Rainy Day, The Champ, Here 'tis
Dizzy Gillespie - A Night In Chicago

The Founding Father of Bebop is immortalized in one of his final concert performances. This night of jazz, filmed live in an intimate club setting in Chicago, showcases the legendary trumpeter playing, creating, dancing, singing, scatting and joking with a joy and exuberance that light up the stage. Impeccably shot and recorded in 24 tracks.
Dizzy Gillespie
- trumpet;
Sayyad Abdul Al-Kahbyyr
- sax, flute;
Walter Davis Jr.
- piano; others.
53 minutes
Dizzy Gilespie - A Night In Havana
Dizzy Gillespie was one of the first American jazz musicians to incorporate the electrifying sound of Afro-Cuban rhythms into a big-band setting. Forty years later, the legendary jazz trumpeter was invited to Cuba, the wellspring of his inspiration, to headline the Fifth International Jazz Festival in Havana.
The concert also features performances by the then-young Arturo Sandoval - trumpet, Gonzalo Rubalacaba - piano, bebop veteran Walter Davis Jr - piano, among others. This documentary/concert features interviews with Dizzy & others.
Dizzy Gillespie and the United Nations Orchestra

At the Royal Festival Hall in London in 1989 a group of some the greatest jazz musicians in the world including James Moody, Slide Hampton, Arturo Sandoval, Claudio Roditti, Steve Turre, Paquito D'Rivera, Danilo Perez, Airto, Flora Purim, and others, came together for a very special concert.
90 minutes